Polychromal inks ensure razor sharp and colourful images/impressions. All inks are optimally matched to the anodised aluminium base plates supplied by Polychromal, through which long lasting colourful and durable prints are realized. The inks are supplied for both inkjet and the screen printing process. Thanks to the different packaging volumes, collection can be fully tailored to your requirements.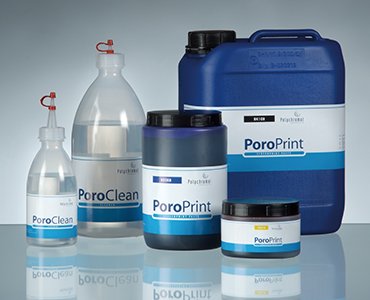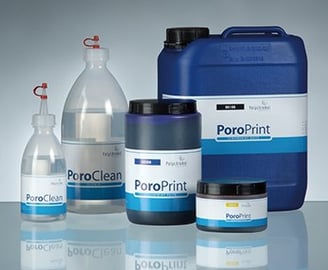 POROPRINT SCREEN PRINTING PASTE & CHEMICALS
For screen printing of anodised aluminium with open pores. Screen printing paste with intense colouring for high-quality screen printing in anodised aluminium base plates.
PASTE SPECIFICATIONS
Immediately ready for use

High dye content

Also suitable for intense colours of less deep anodised skins

Available in 10 basic colours and 13 mixing colours

Interchangeable colours

Colours can be cut with PoroPrint Transparent

Shelf life: 2 years, if properly sealed
PoroPrint transparent
Transparent screen printing paste to lighten the tint of colours. Shelf life: 2 years, if properly sealed.
PoroClean cleaning agent
Solvent to clean the printed plates after sealing. Shelf life: 2 years, if properly sealed.
Sealing Salt
Liquid that serves as a buffer to the acidity of the seal water. Add to the ratio: 3 gr / litre of seal water. Shelf life: 1 year.